Walk Among the Shadows was a big success! Thanks to everyone who toured the cemetery at night, the young actors from Waynflete, and Jamie for putting it all together. Although the gates are not open during the winter, Spirits Alive will still be at work.
Mark your calendars for 3 lectures sponsored by Spirits Alive! They will feature presentations by Salem State College professor Emerson Woods Baker II, author Jim Nelson, and Maine State Historian Earle Shettleworth. Find out more about the lecture series.
Spirits Alive received a $10,000 grant from the Davis Family Foundation for this plan! This grant will assist us in funding the development of a Master Plan which will analyze all aspects of the cemetery and place it in its historical context. The completed Plan will be submitted to Portland's City Council and, if adopted, will serve as the blueprint for its historic preservation.
November Saturdays | 9:00 AM – 12:00 PM

Weather permitting. We are furiously trying to finish the transcription of Section B stones before the snow flies. Please help! We offer training on Saturday mornings. If you have an eye for detail and love recording details while playing detective on the whereabouts, condition, and inscriptions on old grave markers, we're need you! Keep an eye on our schedule. Dates are subject to change; the season's Saturday transcriptions will end once we finish this section.
Who is buried in the Eastern Cemetery?
On July 12, 1807, the schooner Charles was shipwrecked off Richmond Island. 16 of 22 passengers were drowned; 4 of which are buried in the Eastern Cemetery. Mary Stonehouse was one of those passengers. Also tragically drowned that night were Mary's daughter and grandson who are buried next to her. It is said that Mrs. Stonehouse, 62 years old and the widow of Captain Robert Stonehouse, was from Boston. Her stone reads:
From the cold bosom of the wave
Where others found a watr'y grave
This lifeless corpse was bourne, and here
The friends of virtue drop the tear
That mourn the much lamented dead.
But ah! What bitter tears are shed
For fathers, mothers, babes
who sleep In the dark mansions of the deep
Then young and old, and rich and poor prepare
For God may summons when you'r not aware.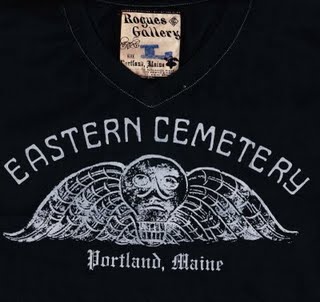 Rogues Gallery, the Portland, Maine-based fashion label that is known the world over for it's New England-flavored designs, is the creator of the Eastern Cemetery t-shirt. They brainstormed the design and donated a supply of shirts to our group. These shirts have allowed us to raise much-needed funds for our group in order to provide educational and fun offerings about the Eastern! Although Spirits Alive is out of stock, Rogues Gallery is selling the shirts through their store on Congress Street and online at their website. All proceeds go to the Eastern Cemetery, so get yours today!
Help Spirits Alive keep the Eastern Cemetery alive for generations to come and join as a Friend. For only $25 a year ($40 for families, $15 for students or elders), you can help:
Continue offering education to the public – through tours, lectures, and events
Build a master plan for the cemetery – to ensure its care forever
Keep the gates open – encouraging the community to use its open green space