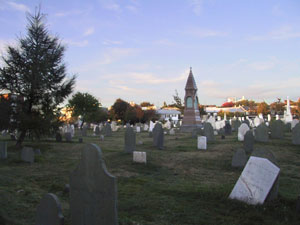 Saturday, March 27
10:00am – 11:00am
Maine Historical Society
There's one more lecture in our winter series on March 27 at Maine Historical Society at 10:00am: "The Development of Munjoy Hill" with Earle G. Shettleworth, Jr. Mr. Shettleworth, the Maine State Historian, has been rocking Portland history for decades. Even before leaving high school, Mr. Shettleworth was immersed in the preservation movement here in Portland. As no other person who speaks regularly about Maine history can compare when it comes to experience and knowledge about the Forest City, the crowd will be sure to be large. Come early for a seat, and enjoy this talk about the history of the east end of the city and how the Eastern Cemetery has played a role in its continuing evolution. More about the lecture series.
The winner of the last Eastern Cemetery t-shirt will be announced! Tickets are only $1. This is your last chance to own this Rogue's Gallery original.
In case of inclement weather, listen to the voice message at 207-318-2982.
You don't have to be a Facebook member to see our page, only to post comments to it. We add items almost daily — interesting things that have to do with the Eastern Cemetery, cemeteries in general, local history resources, and events for history buffs. Items we post include photos, links to sites online, and offerings from other Maine history organizations. We're also on Twitter so follow us today!
A big thanks to Big Sky Bakery for supplying tasty treats at our February lecture. Their scones and muffins were perfect companions to the coffee we offered on that cold day-after-a-storm morning! You can visit them in the Market House, 28 Monument Square, Monday to Friday 8am-6pm, Saturday 8am-5pm, or Sunday 10am-3pm.
In old burial grounds, a section was designated for those who could not afford a burial or grave marker, those who had no family or friends, those who were unknown, and even stillborn babies: the Strangers' Ground. The Eastern Cemetery had a one, and in 1838 the city allowed the burial of 2 strangers per gravesite in it. Though we don't know where this section is located, we do know the names of some who were buried as strangers:
Adeline Drowne, 5 months, died 8-4-1846, daughter of James
William Coffin, died 8-16-1846, son of William
Joseph Anlry, died 11-17-1847, 20 years
Rest in peace, dear strangers. We know you are many.
Help Spirits Alive keep the Eastern Cemetery alive for generations to come and join as a Friend. For only $25 a year ($40 for families, $15 for students or elders), you can help:
Continue offering education to the public – through tours, lectures, and events
Repair and restore the Congress Street fence!
Keep the gates open – encouraging the community to use its open green space