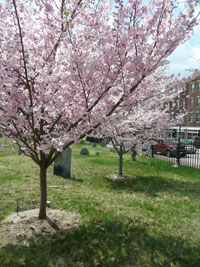 Saturday, April 17
10:00am – 12:00Pm
Congress street gate

Join us in the EC where we'll celebrate Earth Day a little early with a clean up of the grounds. The long winter and blowing winds on Munjoy Hill have assembled a collection of ephemera from about town and deposited it onto the hallowed soil. Let's get ready for tour season and pick up the evidence of misplaced discards! The rain date is April 24.
Refreshments, gloves, trash bags, and rakes will be supplied!
The winner of the last Eastern Cemetery t-shirt was Scott Tirrell who donated $1 to Spirits Alive for a ticket and beat the odds!
Spirited Business - Down Home Cookin'
Down Home Cookin's supplied coffee for our last lecture on March 27. They not only provided regular and decaf, but also hazelnut and French roast - wow! It's folks like this that make Portland feel like a small town. Go in and sample their goods at 30 Preble Street or call 207-228-2064 for more information. Try their homestyle salads, soups, entrees and desserts. They also cater and deliver! Our most sincere thanks goes to Down Home Cookin'.
Subterranean Celebrity: Stephen Longfellow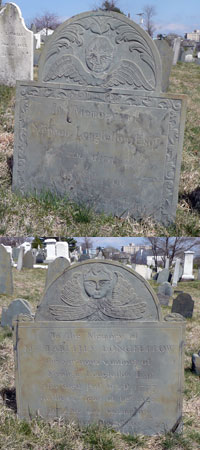 In 1761, 100 acres of land was purchased in Narragansett Township (now Gorham) that would eventually inspire the poet, Henry Wadsworth Longfellow.
The man who purchased this land, Stephen Longfellow II, was a schoolmaster from Falmouth who married Tabitha Bragdon in 1749. They and their son – Henry's grandfather, Stephen III – moved out to Gorham after British Captain Mowatt's campaign of destruction burned the town and their home on Fore Street.
Stephen Longfellow was a participant in government as town clerk, clerk of the Proprietors of Common Lands, clerk of the Judicial Court, and Register of Probate for Cumberland County. Though they lived in Gorham until death, Stephen and Tabitha are buried side-by-side in the Eastern Cemetery and their graves are marked with beautifully carved stones including borders and winged faces.
Help Spirits Alive keep the Eastern Cemetery alive for generations to come and join as a Friend. For only $25 a year ($40 for families, $15 for students or elders), you can help:
Continue offering education to the public – through tours, lectures, and events
Repair and restore the Congress Street fence!
Keep the gates open – encouraging the community to use its open green space