Sundays
1:30Pm - 2:30pm
Bring your friends and family! Learn about the history of the cemetery, a bit about who is buried there, and what the art on their stones is all about. Tour groups are welcomed! Let us know in advance so we can make sure we have enough guides on site. Please arrive by 1:15pm at the Congress Street gate with exact cash or check: Per person $7, Elders (62 and better) and students $4, children under 12 are free. Tour will be canceled in the event of rain (which we won't pray for even though we really need it!)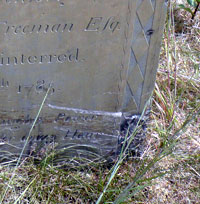 The inventor of the weed eater is on our black list. In 1972, George Ballas of Houston, Texas, came up with a device that, with a spinning nylon cord, would eliminate straggly weeds around such things as driveway edges and trees without damage. Unfortunately, this machine was eventually adopted by city government maintenance crews, and the resulting damage to stones in municipal cemeteries is irreversible.
As we transcribe stones, one of the checkboxes for stone condition on the form is "Mower scratches." In 30+ years, most stones in our cemetery have suffered scratches, chips, and breaks as a result of the careless and ignorant use of Mr. Ballas' invention. It's possible to use softer cord and also to stay far from the surface of these artifacts, but without training, who would know?
The Stone transcription Project continues in the cemetery each Saturday from 8AM–12PM. Join us and learn!
The cemetery is SO dry and suffering the effects of 2 months of trash blowing in off of the street, weed growth and death, and general desert-like conditions. Come help us tidy up the grounds, replace dead plantings and have a good time! A time and date is coming soon. Please check our site, Facebook and Twitter for the latest.
Mark your calendar for the upcoming Walk Among the Shadows tours October 21-23 and 28-30. Spirits Alive is teaming up with Acorn Productions and Portland Playback to bring you 6 nights of evening tours through the cemetery. Costumed actors will deliver spooky monologues of those who are buried within the gates. Expect the unexpected! More information will be available soon — including how to reserve your spot ahead of the crowd.
Help Spirits Alive keep the Eastern Cemetery alive for generations to come and join as a Friend. For only $25 a year ($40 for families, $15 for students or elders), you can help:
Continue offering education to the public – through tours, lectures, and events
Repair and restore the Congress Street fence!
Keep the gates open – encouraging the community to use its open green space