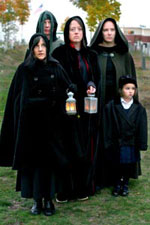 October 21-23 & 28-30
6:30pm - 7:30pm
First-come, first-served
Please join us for Walk Among the Shadows III, 6 evenings of tours through the Eastern Cemetery. From October 21st to 23rd, we are pleased to welcome actors from Acorn Productions who will portray the interred. Hooded specters will lead groups from person to person, stopping to listen to the stories of the dead on the way.
From October 28th to 30th, we're excited that Portland Playback actors will bring the dead to life in the same spooky manner — with a mix of eeriness and fright for young and old.
Tours are first-come, first-served (so get there early as there are only 5 tour groups allowed through each night). Admission is $10 and $5 for children 12 and under.
This is the largest fundraiser we have to help keep the cemetery active and open all year long, please bring your friends and family for a spooky night of history.
A few Saturdays ago, we came upon a severly eroded marble headstone in which "publisher" and "Boston News" appeared to be inscribed. Upon finding the gravesite in the list, we found that a Francis Douglas should be buried in this spot. Francis Douglas (1783-1820) was a publisher who took over the Eastern Argus from William Willis in about 1809. According to an obituary from the Catskill Recorder (courtesy of Rootsweb) his end came on an island hunting excursion: "...Mr. D. seized the fowling piece by the muzzle for the purpose of drawing it towards him, when it went off and discharged its contents into his knee and fractured the bones very much on each side... such was the loss of blood..." that he died at age 37.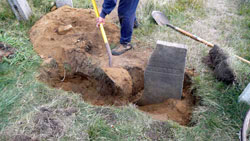 Stone survey mornings are always an adventure. We have a super group of dedicated volunteers: Martha, Art, Nikki. Laura, and Holly. Everyone is ready to do what it takes to be able to get measurements, condition, and inscriptions from the stones. Sometimes this is the simple act of working on a slate stone that is easy-to-read and easy to measure. Often it requires the deduction of the group to read severly eroded marble. The morning always includes minimal digging – usually to get to the buried transcription end, and rarely, we find stones that have fallen and are covered with a layer of earth – recorded in the book as "stone destroyed." It's always a happy occasion to prove that diagnosis wrong. This requires digging a new hole to set the stone in – protecting it from those who come after, ensuring it is in the correct location on the updated map – and always resulting in dirty fingernails.
The Stone Transcription Project continues in the cemetery each Saturday from 8AM–12PM. Join us, learn, and get your own dirty fingernails!
Help Spirits Alive keep the Eastern Cemetery alive for generations to come and join as a Friend. For only $25 a year ($40 for families, $15 for students or elders), you can help:
Continue offering education to the public – through tours, lectures, and events
Repair and restore the Congress Street fence!
Keep the gates open – encouraging the community to use its open green space