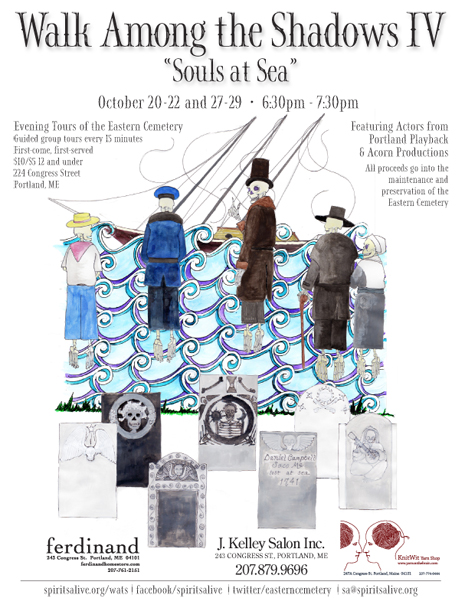 Thursday – Saturday
October 20-22 & 27-29
6:30 PM - 7:30 PM

Our evening tours through the cemetery celebrate the Halloween season! Groups of tourees will be guided down Funeral Lane by a resident specter who will lead them to hear the tales of those who have passed before. The tours are family-friendly and last about 40 minutes.
Actors from Acorn Productions and Portland Playback will bring the dead to life in the same spooky manner — with a mix of eeriness and fright for young and old.
Tours are first-come, first-served (so get there early as there are only 5 tour groups allowed through each night). Admission is $10 and $5 for children 12 and under.
This is the largest fundraiser we have to help keep the cemetery active and open all year long, please bring your friends and family for a spooky night of history.
We are so excited to have the support of our neighbors as sponsors this year: Ferdinand, Knit Wit, and J.Kelley Salon!
Help Spirits Alive keep the Eastern Cemetery alive for generations to come and join as a Friend. For only $25 a year ($40 for families, $15 for students or elders), you can help:
Continue offering education to the public – through tours, lectures, and events
Encourage and support the city in keeping the site clean and safe for visitors of all ages
Repair and restore the victorian tool shed
Keep the gates open – encouraging the community to use its open green space
We also offer 2 free tour tickets and 10% off all Spirits Alive merchandise.