Saturday, July 28, 2012 (rain date July 29)
9:00 AM - 4:00 PM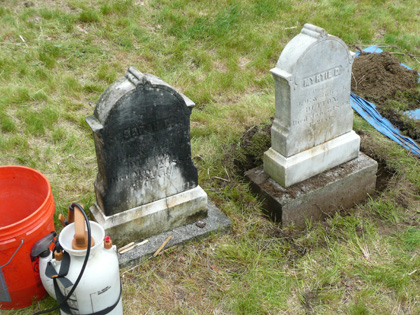 Join us for this hands-on workshop! We will learn to clean and reset stones while learning best practices to identify and document work done from gravestone conservator Ta Mara Conde of Historic Gravestone Services. The workshop is limited to 15 participants, so RSVP today!
Email: ec.stonegroup@gmail.com
Suggested donation: $10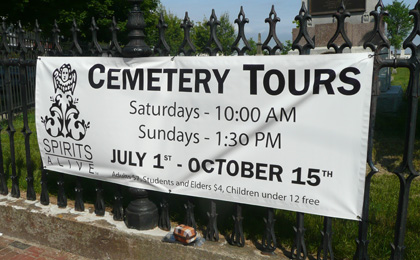 Saturdays: 10:00 AM - 11:00 AM
Sundays: 1:30 PM - 2:30 PM
$7 per person, seniors and students $4, children under 12 free
It's summer, and that means guided tours through the cemetery! Learn about the types of stones, some of the stories of those who are interred, and some fun facts about burial grounds and funerary customs. The terrain is uneven, the sun can be warm, and the wind can be cool, so wear layers and appropriate footwear. You can pre-register by emailing sa@spiritsalive.org but it's not required. Check the Twitter feed on our website for cancellations due to weather.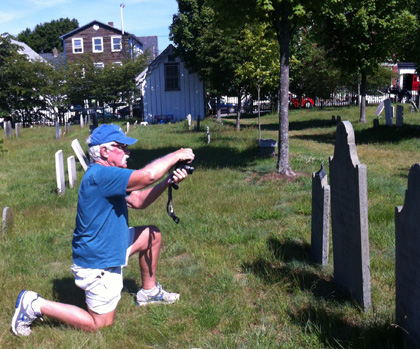 We had a pretty and warm morning on June 30 for 7 new cemetery photographers to learn the system to be able to begin capturing images of all of the site's gravestones. Already, the group has submitted digital images to the archive for section B's 300+ stones. Although you may have missed the kickoff, you can still participate! Learn more about volunteering your time and camera work to the Eastern Cemetery Stone Photography Project by emailing Holly today.
Subterranean Celebrity: Elihu Gunnison
In the last row of stones closest to the North School is that of the Gunnisons: Elihu, his wife Betsey, and his son James. On Maine Memory Network website is a letter written by Mr. Gunnison. He was a carpenter on the privateer Young Teazer which was blown up by one of its own crewmen. To avoid capture a sailor had thrown coal into the ammunition magazine and blew the whole thing to bits. Mr. Gunnison survived and wrote to the owner for his prize money. This was 13 years before he was memorialized on this slate marker in the Eastern Cemetery.
The Maine Historical Society provides a transcript for download:
Halafax July 8 1813
Mr Samuel Whiten Sir I take this
oppertunity inform you that we are
well at present but have had the
misforten to be blone upon in the
young tease and to hav goe to prison but
am in hops of being Exchange Soon as there
is a Carteel now here and another Expected
Soon and Likewise I wish for you Look after my
Pris money me in perticular John Piles as
I had my Prise ticket with me when I was
Boone up and we Lost Every thing that we had
and Likewise thre of your Bordes ware Lost
Harry williams Jack Brown and higgins
the Remainder Left us at Portland there
Eight that was Land in the Boat out of thirty Seven
Elihu Gunnison
John Mitchel Richard Vanvost
John Carlang
Charles Wheatman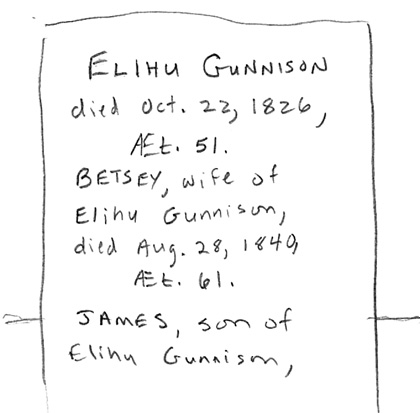 Help Spirits Alive keep the Eastern Cemetery alive for generations to come and join as a Friend. For only $5 you can help us:
Continue offering education to the public – through tours, lectures, and events
Encourage and support the city in keeping the site clean and safe for visitors of all ages
Repair and restore the Dead House (Victorian Tool Shed)
Keep the gates open – encouraging the community to use its open green space
Go to: www.spiritsalive.org/join to take advantage of this offer today!