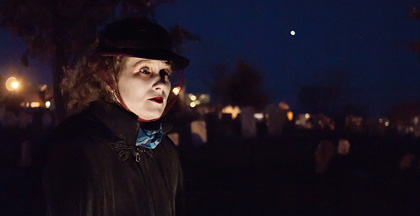 October 18-20 and 25-27, 2012
6:30 PM - 7:30 PM
Join us for "On Land and at Sea: Portland in the War of 1812" a spooky, specter-led walk through the grounds. Hear the stories of those who still occupy the 344-year-old boneyard. This is a fun annual happening for cemetery lovers, students of Portland history, and Halloween aficionados of all ages! Professional actors from the community portray our residents and animate their tales of lives past amidst the eerie background of historic gravestones. A not-to-be-missed October event, this year's ghosts are portrayed by professional actors from Acorn Productions. We are proud to have the support of our neighbors: Coffee by Design, CycleMania, J.Kelley Salon, KnitWit, and the Portland Daily Sun! We'll hope you'll support them, too.
The Eastern Cemetery: A Place in Peril
Needing Considerable Maintenance and Conservation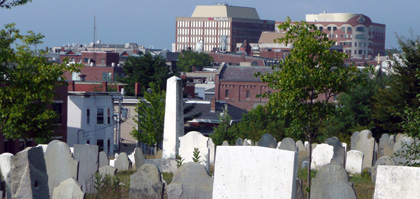 The Eastern Cemetery was included on the Greater Portland Landmarks Places in Peril list. In order to help build awareness, the list was started this year and includes properties that are "prominently visible or have such historic significance that Landmarks must advocate for their protection and preservation. " Although we are disappointed that the cemetery is still considered a property under threat, we are happy about the possibilities that being on list list may have for the Eastern Cemetery. As the city's Open Space Manager Troy Moon mentioned in a Portland Press Herald article, "the master plan [Spirits Alive-funded and directed] will be used as a guide for future funding of cemetery improvements."
Subterranean Celebrity: Elizabeth Wendell Quincy Clapp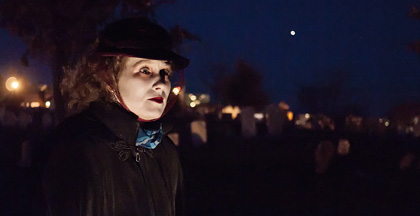 One of our Walk Among the Shadows ghosts married Asa Clapp. Elizabeth was of the same prominent family known through President John Quincy Adams and Quincy Market in Boston — her aunt married John Hancock. She was described in the Clapp Memorial as "a lady of great personal attraction, a devoted and affectionate wife and mother, a sincere, exemplary Christian, kind and generous in all her social relations." The Clapp memorial in our own Eastern Cemetery lends no description of her character, simply: "Elizabeth W.Q. his wife/ Born June 10, 1764/ Died Nov. 21, 1853/ AEt. 89." Who was this woman? What was she like? A portrait owned by the Portland Museum of Art might lend some clues, but on this stone there is little to enlighten us about this interesting Portland woman. An excerpt from a book, The Woodbury Family summed her up in a sweet way: "Mrs. Clapp retained that charming grace and courtesy of manner, that ineffable goodness of heart, and charity that had always distinguished her."
Help Spirits Alive keep the Eastern Cemetery alive for generations to come and join as a Friend. For only $5 you can help us:
Continue offering education to the public – through tours, lectures, and events
Encourage and support the city in keeping the site clean and safe for visitors of all ages
Repair and restore the Dead House (Victorian Tool Shed)
Keep the gates open – encouraging the community to use its open green space
Go to: www.spiritsalive.org/join to take advantage of this offer today!