Support the Eastern Cemetery with your holiday giving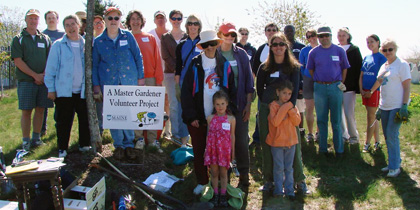 You have to admit that giving your friends and family members a Spirits Alive Friendship would be a very creative and unexpected holiday gift! For only $5 each, you can help Spirits Alive keep the Eastern Cemetery alive for generations to come and join as a Friend. Through your support we will continue to:
Keep the gates open – encouraging the community to explore its open and safe green space
Offer education about the cemetery and its residents to the public – through tours, lectures, and events
Encourage and support the city in keeping the site clean and safe for visitors of all ages
Spearhead the drive to repair and restore the Dead House (Victorian Tool Shed)
Preserve this incredible outdoor museum and sacred historic landscape
Go to: www.spiritsalive.org/join to take advantage of this offer today!
Consider Joining the Group This Spring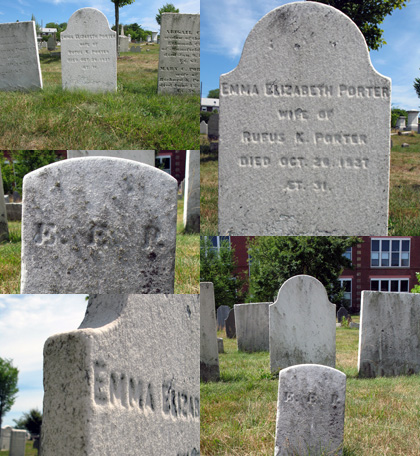 Starting in July, a small group of intrepid photographers spent their summer and fall days trekking into Section B (bordered by Congress Street and the North School). They began what will be a complete photographic record of every stone in the Eastern Cemetery. As of winter, over 1,100 images depicting 237 stones are in our archive. These photographs will be married with the data records taken of the stones over 4 years ago. This will be the first time we are able to document and track the differences in the state of the stones over a period of time, and we're very excited! Won't you consider joining us next year? HUGE THANK YOU to Barb, Ben, Daryl, Sharon and Walt for their generous dedication of time and expertise.
Subterranean Celebrities: Hudson and Sally Bayley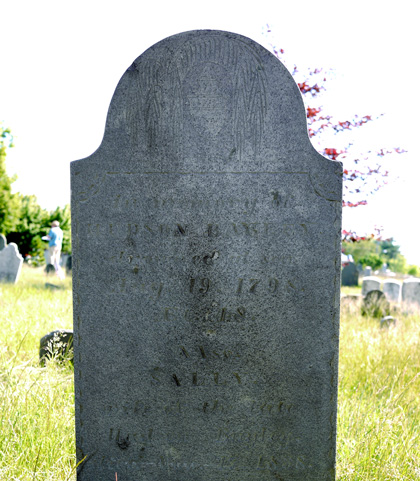 For every stone in the cemetery, there are umpteen stories about the people associated with it! Some stones list more than one person as in the case of the Bayley's stone in Section B.
In memory of
HUDSON BAYLEY.
drowned at sea
Aug. 19, 1798,
AEt. 48.
Also,
SALLY
wife of the late
Hudson Bayley,
died Nov. 17, 1838.
AEt. 87.
Born the son of Captain Joseph and Mercey Cox Bailey, Hudson was given the name of his father's mother's last name. He married Sarah "Sally" Yeaton in November 1775 in Portland. They had several children, and he served as a lieutenant in the 11th Regiment of the Massachusetts Continental Line during the Revolutionary War. The Cumberland County, Maine archives state: "He sailed from Portland as mate in the vessel named Snow Maria with father, as captain. The vessel was captured, and condemned as a valuable prize. The captain died about that time, and Hudson, the son, was washed overboard and drowned...." Sally lived in a 2-story house near where the Cumberland County Civic Center now stands. She lived above an apothecary shop there, and died in that home about 40 years later.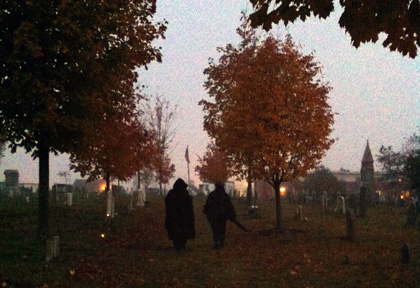 About 500 people joined us for "On Land and at Sea: Portland in the War of 1812" a spooky, specter-led walk through the grounds. They heard the stories of those who still occupy the 344-year-old boneyard. Professional actors from Acorn Productions portrayed our residents and animated their tales. We are proud to be able to partner with the City of Portland and use the money earned to improve its look and safety according to the newly enacted Master Plan. We again want to thank our generous sponsors: Coffee by Design, CycleMania, J.Kelley Salon, KnitWit, and the Portland Daily Sun!