Volunteer Organizational Meeting: October 3, 2013
5:30pm at the Snug, 223 Congress Street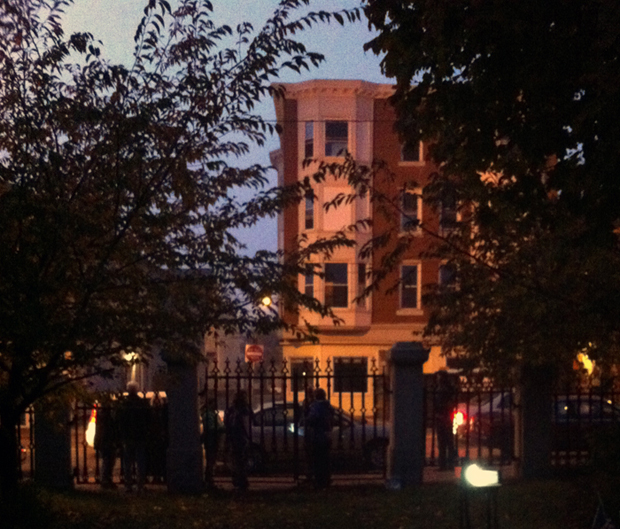 Spirits Alive is an all-volunteer group, and we would love to have your help with Walk Among the Shadows. Not only do we need brave specters to dress in black hoods and lead groups down Funeral Lane, but we also need help getting people signed in outside the gates. If you can make the meeting, great! If not, and you want to volunteer, please email us!
Walk Among the Shadows: Portland and the Civil War
October 24-26 & 30-31, 2013
6:30pm – 7:30pm
Sunday, October 27
5:00pm – 6:00pm
Plan in October to attend Walk Among the Shadows and hear the tales of an all-new group of cemetery spirits. Our ghosts this year will include those who had experience living in the time of the Civil War including a journalist, a soldier, a war secretary, an abolitionist, a musician, and a mayor.
We are extremely thankful for the support of local merchants who help to offset our costs to put on the event. This allows us to invest most of the funds raised at the gate into the Eastern Cemetery. Big thanks to:
KnitWit Yarn Shop: 3rd year sponsoring Walk Among the Shadows - and right across the street!
Coffee by Design: 2nd year sponsor!
Carlson & Turner Bookstore: New sponsor, but old friend! Right across the street!
Wannawaf: New sponsor, yay!
Portland Daily Sun: 2nd year sponsor!
Otto Pizza: New sponsor and also across the street!
Ferdinand: 2nd year sponsor and right across the street!
Through October 13
Wednesdays 1:30 pm, Saturdays 10:30 am & Sundays 1:30 pm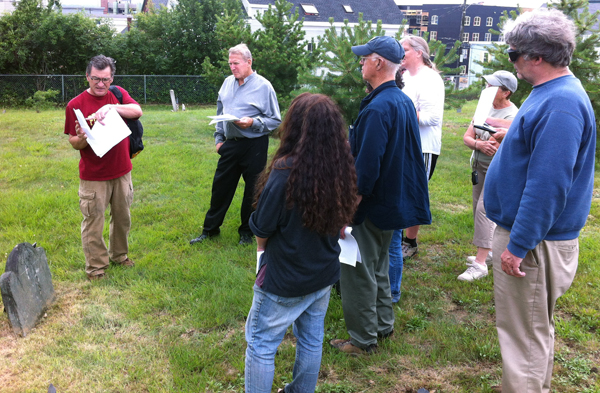 There's still time to take a tour of the Eastern Cemetery before the season ends. This year Spirits Alive is offering tours 3 days a week! Come take a stroll with us through the 6-acre site. Learn about those interred, the art on their stones, and the city in which they died. Tours last 1-1/2 hours and are weather-dependent. Please be a little early so that guides can make change for you. Tickets are $7 adults, $4 students and seniors, and free for children 12 and under. We are excited to see you!
Subterranean Celebrity: Grizzy Ross
Died July 13, 1835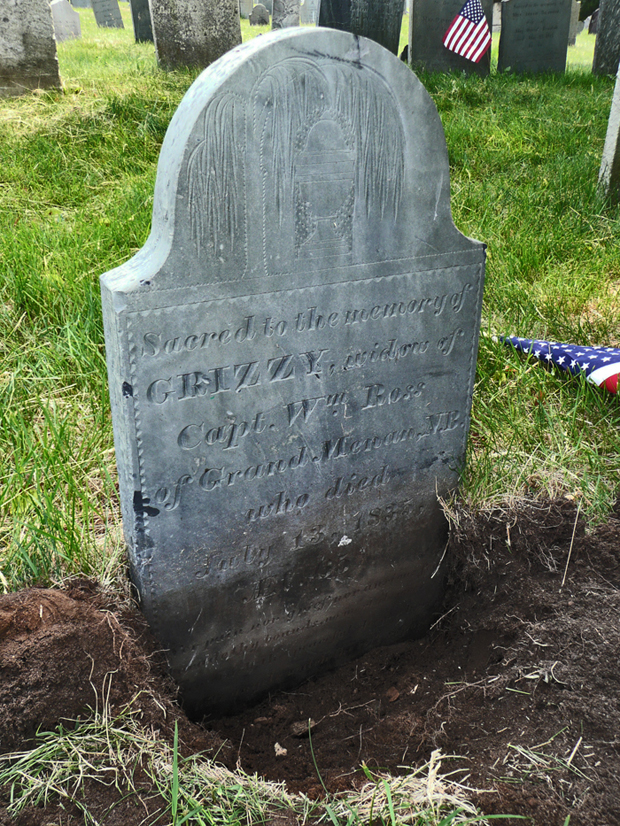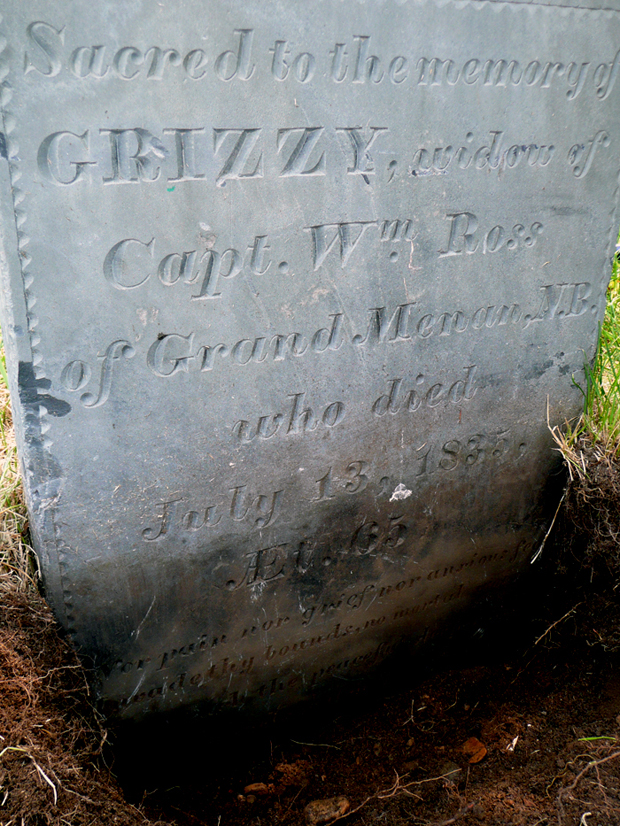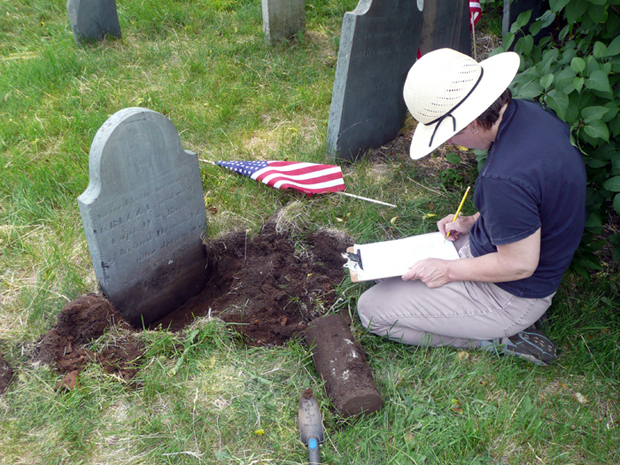 From the headstone of Grizzy Ross, you can see she was married to Captain William Ross of Grand Manan, New Brunswick. Grizzy Wyer and Captain Ross were married in Portland in 1811. They turned up in the 1821 census on Grand Manan Island, and a record of court cases indicates he left her all "the goods and chattels" as well as "all the rents, issues and profits" from the property he owned there at the time of his death in 1828. Captain Ross' father, Thomas, was from Portland and a settler of Grand Manan Island. We don't know if they had any children, or when or why Grizzy returned to Portland. All we know is that she's one of our residents and is lucky to still have a pretty slate headstone.
Sacred to the memory of
GRIZZY, widow of
Capt. Wm. Ross
of Grand Menan, N.B.
who died
July 13, 1835,
AEt. 65
Nor pain nor grief nor anxious fear,
Invade thy bounds, no mortal woes,
Can reach the peaceful sleeper here
While angels watch the soft repose.
Grand Trunk Cemetery Blog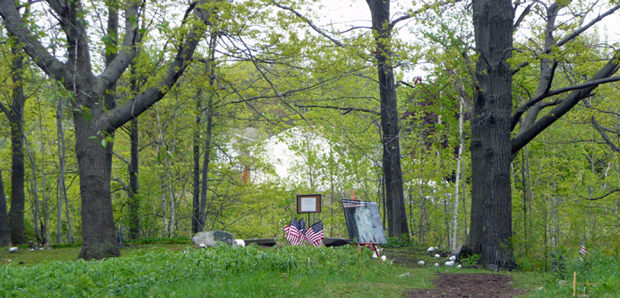 Remember the little cemetery behind the Presumpscot Elementary School that 2 Girl Scouts took on as a project? Marianne Chapman, the girls' leader, continues efforts to keep the area clean, safe, and well-loved. She has started a blog and has been documenting efforts to uncover the mysteries of those who are buried there: Remnant: Grand Trunk Cemetery Reclamation Project.
Support the Eastern Cemetery with your giving
For only $5, you can help Spirits Alive keep the Eastern Cemetery alive for generations to come and join as a Friend. Through your support, you can help us, an ALL-VOLUNTEER organization, to continue to:
Keep the gates open – encouraging the community to explore its open and safe green space
Offer education about the cemetery and its residents to the public – through tours, lectures, and events
Encourage and support the city in keeping the site clean and safe for visitors of all ages
Preserve this incredible outdoor museum and sacred historic landscape
Go to: www.spiritsalive.org/join to take advantage of this offer today!