Saturday, February 22, 2014
1:30pm – 3:00pm
USM Wishcamper Center

Lecturer Ron Romano, a tour guide and member of the Spirits Alive Board, will present original research that explores the life and times of Bartlett Adams in Portland, and reveals the scope and impact of his work at Portland's historic Eastern Cemetery and beyond.
Read more about Bartlett Adams in our October 2009 eNews.
For more information about the event, visit our Winter Lecture Series page.
Subterranean Celebrity: Daniel Manley
Died October 5, 1837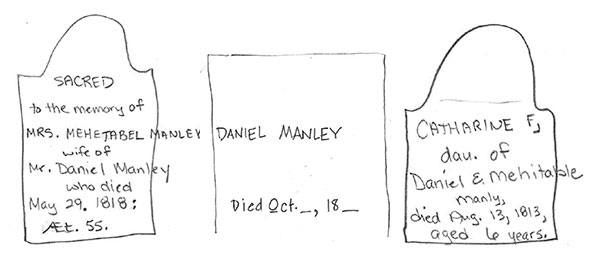 In 1818, the Cumberland Bank's vault was found to be almost completely empty. Suspicion was directed to a store owner named Daniel Manley. Manley wound up leading the authorities to where he had buried the stolen money (reported to be over $200,000), and was subsequently sentenced to 12 years in prison. Because of this caper, he has been dubbed "Portland's First Bank Robber." Another sad note about his life is that his wife Mehitable had died only a few months prior, leaving him with 2 children: Charles Daniel (who would have been 7 years old) and Emeline. Manley is buried next to his wife and a few plots down from his daughter, Catharine F. who died in 1813 at age 6.
Unfortunately, there's not much left of his rectangular marble headstone's inscription, and there seems to be no trace of any decorative carving. Mehitable's headstone is made of slate and includes an urn and willow decoration (most likely Bartlett Adams' work). Her epitaph reads:
Great is our loss, yet her superior gain,
consoles our grief & mitigates our pain,
the soul that oft had walk'd the ethereal road,
pleas'd with its summons took its flight to God.
Note the discrepancies in the headstones and burial records of name spellings. Even in the transcription sketches things get a bit wonky at times!
Saturday, March 29, 2014
1:30pm – 3:00pm
USM Wishcamper Center

Save the date for the last offering in our series: "The Status and Future of Portland's Forgotten Cemeteries." A panel will discuss several historic small burial grounds and what is takes to restore them to our cultural landscape. Panelists:
Marianne Chapman, Grand Trunk Cemetery
Matt Barnes, Peaks Island Cemeteries
Joe Dumais, City of Portland, Cemetery Superintendent
Representative from Maine Old Cemeteries Association
Sunday, May 18, 2014
1:00pm - 4:00pm
Maine Jewish Museum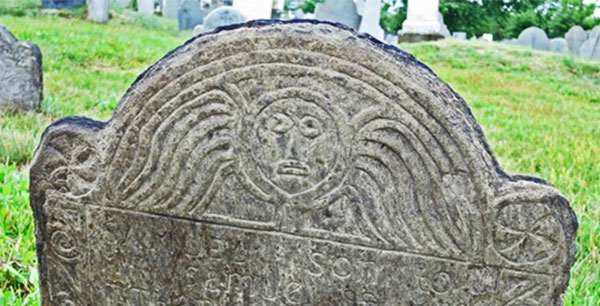 Spirits Alive is proud to help organize the spring Association for Gravestone Studies Northeast New England Chapter Meeting. Though the meeting will take place up the street at the Maine Jewish Museum, there will be a tour (weather permitting) of the Eastern Cemetery. There will be several 15-20 minute presentations on cemetery-related topics. The meeting is free and open to the public.
Support the Eastern Cemetery with your giving
For only $5, you can help Spirits Alive keep the Eastern Cemetery alive for generations to come and join as a Friend. Through your support, you can help us, an ALL-VOLUNTEER organization, to continue to:
Keep the gates open – encouraging the community to explore its open and safe green space
Offer education about the cemetery and its residents to the public – through tours, lectures, and events
Encourage and support the city in keeping the site clean and safe for visitors of all ages
Preserve this incredible outdoor museum and sacred historic landscape