Saturday, January 25, 2014
1:30pm – 3:00pm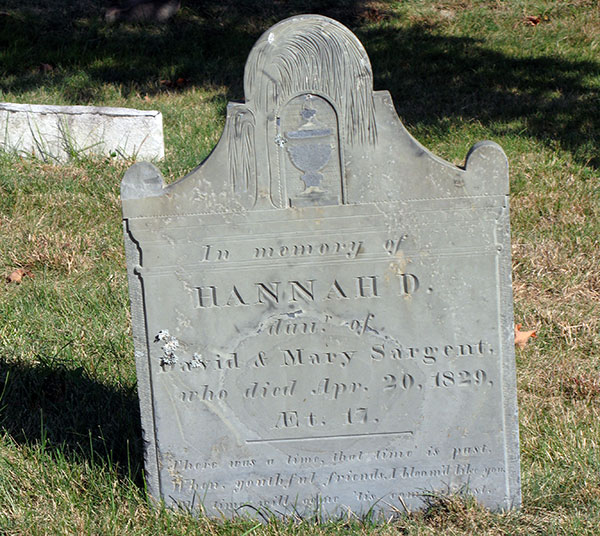 Spirits Alive is proud to welcome cemetery historians, The Gravestone Girls, who will present the first lecture in our series: "The Art, History & Symbolism of New England Gravestones." Join us for an entertaining virtual romp through old graveyards, stones, and their art and history. We'd love to see you. For more information about the event, visit our Winter Lecture Series page.
Portland Historical Organizations Join Forces
The Portland History Docents program will graduate a group of eager history buffs again this year! This 18th class will start on February 13 and go through May 1, occurring every Thursday from 9:00 am to 12:00 noon. There are 7 participating historical sites that provide schooling on everything from how to give a tour to an overview of the arts in 19th century Portland. Visits to each participating organization's site is included in the class. Each graduate is asked to volunteer at one of the sites for one year. Greater Portland Landmarks is the sponsor of this fabulous learning opportunity, and the sites are:
New Non-Fiction Stars a Historic Cemetery
Allan Gurganus, an author who says "Marble lambs and crosses are my neighbors" has written a fifth book called "Lost Souls." CBS News saw fit to have him read part of this book on their show, and you may see a clip of it. "Cemeteries, being mortal, require defending, too. I sure guard mine! And all of us who curate and memorize our nearby plot? We will soon discover how it — in so very little time — will, no questions asked, return the favor." –Allan Gurganus
He was also covered by the New York Times who published an excerpt in their Opinion Pages.
Subterranean Celebrity: Cornelius Bramhall
Died March 28, 1761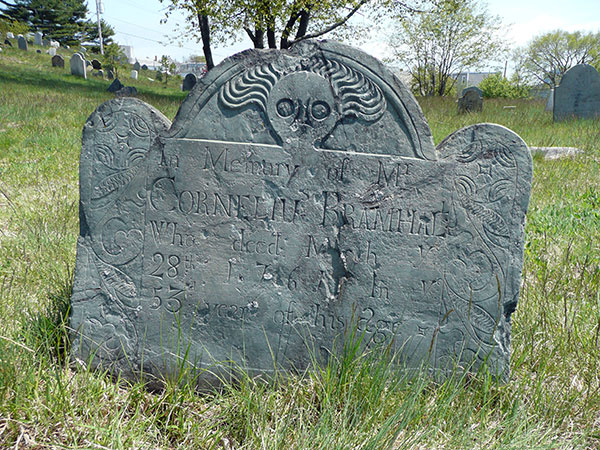 The visible inscription on Mr. Bramhall's headstone reads:
In memory of Mr
Cornelius Bramhall
who died March ye
28th 1761 In ye
53rd year of his age
Earlier this year, volunteer Ron Romano had the pleasure of meeting Jim and Melissa Bramhall of Houston, descendants of one of our very own: Cornelius Bramhall.
Ron had been in touch with them as they'd been working on their family tree. After finding out that Cornelius Bramhall had died in Portland and that his stone was in the Eastern Cemetery, they scheduled a visit to to see the gravestone in person this summer.
Ron and his spouse showed them "all things Bramhall" including Bramhall Pub, Bramhall fire department, Bramhall Street, Bramhall Hill—just to name a few. They were also able to meet Peter and Hope Bramhall who live in Falmouth.
As Ron says, "All in all it was a very successful visit.... It just goes to show you how one little thing can lead to something quite extraordinary.  Jim and Melissa have found their roots, and we have new friends in Houston!"
Mr. Bramhall's life in Portland is a bit of a mystery as no official records have been connected to him so far. His stone, though, shows a wild head of hair that makes him a favorite in the cemetery. Our friends at Della Mano Designs were so inspired by it that they created a special Cornelius Bramhall gravestone necklace.
This story is yet another example of how relevant and important it is to preserve and conserve this historic site.
Support the Eastern Cemetery with your giving
For only $5, you can help Spirits Alive keep the Eastern Cemetery alive for generations to come and join as a Friend. Through your support, you can help us, an ALL-VOLUNTEER organization, to continue to:
Keep the gates open – encouraging the community to explore its open and safe green space
Offer education about the cemetery and its residents to the public – through tours, lectures, and events
Encourage and support the city in keeping the site clean and safe for visitors of all ages
Preserve this incredible outdoor museum and sacred historic landscape
Go to: www.spiritsalive.org/join to take advantage of this offer today!