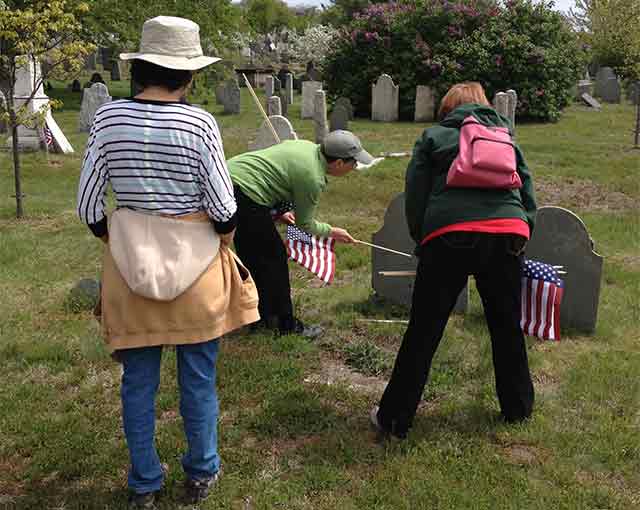 It's almost summer and things are getting busy out in our favorite bone yard. From tours about the history of the site as well as special tours on stonecutter Bartlett Adams to learning more about cleaning and conserving gravestones, we've got a full schedule!
Subterranean Celebrity: Sabine Emery
Died March 24, 1868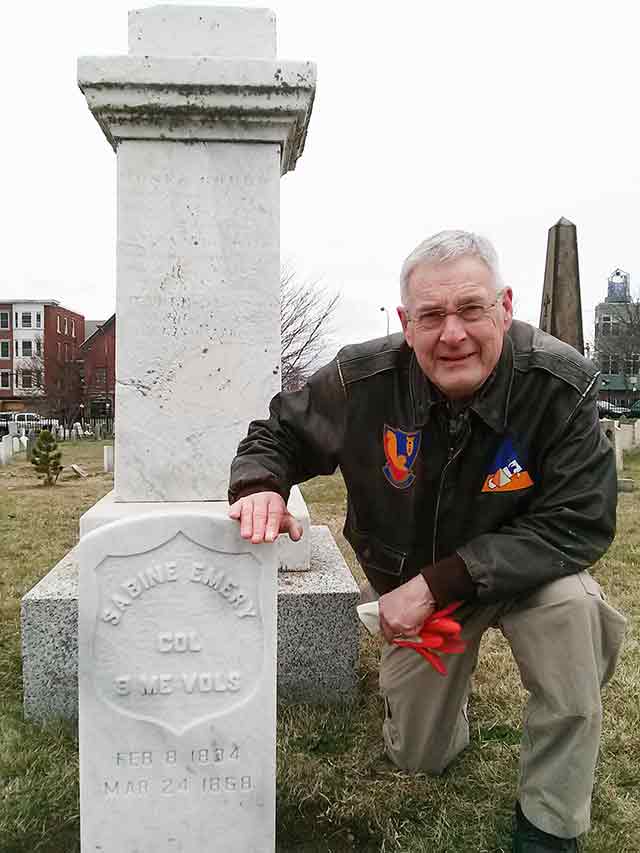 Ben Smith, Civil War historian of the 9th Maine, was especially interested in the assault on Battery Wagner. There is a much larger story here, but the bare bones (as used for the movie "Glory") of it are that the 54th Massachusetts all-black regiment led the charge on Battery Wagner. The soldiers were slaughtered horribly by the Rebs. The second wave of the assault on the Battery was by the 9th Maine. In that assault was Colonel Sabine Emery. He was wounded badly in the action after leading the second assult on Wagner, but not killed. Emery, an 1858 Colby graduate, died in 1868 ultimately of his wounds, at age 34. Smith has been trying to find Emery's burial spot for years, but no one seemed to know where it was. Finally, through records at Evergreen Cemetery, he discovered that Emery is in the Gould family tomb at Eastern Cemetery. Smith was so thrilled that he led the initiative to requisition a soldier's stone from the U.S. Department of Veterans Affairs. The stone has been installed, and a dedication ceremony with re-enactors from the 54th Massachusetts marching from the Abyssinian Meeting House to the Eastern Cemetery is scheduled for Saturday, June 7 at 1:00PM. Special thanks to Barbara Hager for the this story about Sabine Emery and his new marker.
Thursday, June 5, 2014
5:00PM - 7:00PM
First Parish Church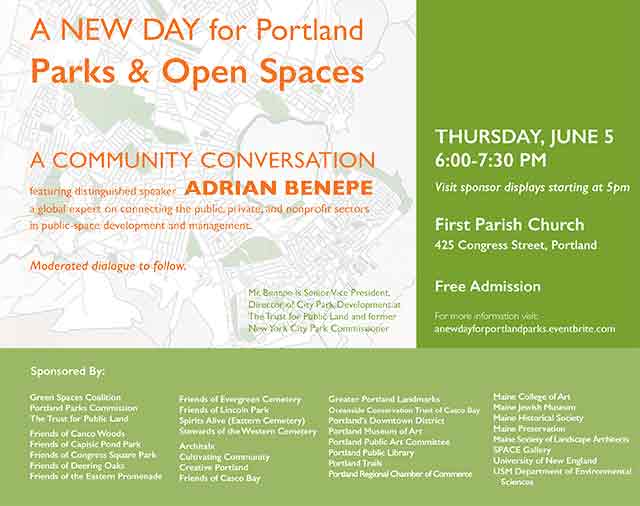 Spirits Alive is a sponsor of this free, public event featuring speaker Adrian Benepe. It is organized by a growing network of interested people and organizations engaging in a visioning and planning conversation about Portland, Maine's gardens, open spaces, parks, and trails.
Support the Eastern Cemetery with your giving
For only $5, you can help Spirits Alive keep the Eastern Cemetery alive for generations to come and join as a Friend. Through your support, you can help us, an ALL-VOLUNTEER organization, to continue to:
Keep the gates open – encouraging the community to explore its open and safe green space
Offer education about the cemetery and its residents to the public – through tours, lectures, and events
Encourage and support the city in keeping the site clean and safe for visitors of all ages
Preserve this incredible outdoor museum and sacred historic landscape