Saturday, May 2, 2015
8:30am to 12:00pm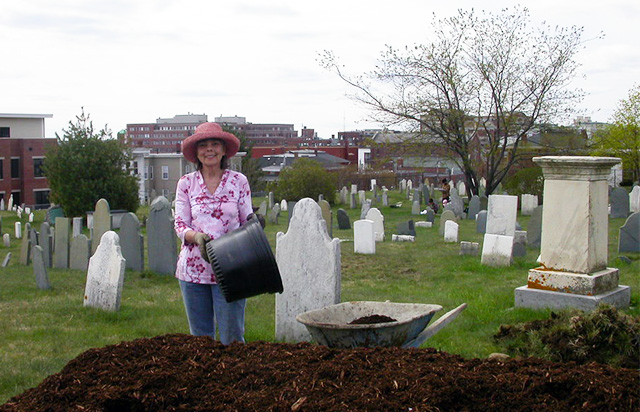 We will gather at the Dead House inside the gates from 8:30am to 9:00am to enjoy a little bakery and joe, then we'll spruce up (get it?) around the trees and bushes with mulch, pick up trash, and do general gardening with our sugar and caffeine high. Feel free to bring your work gloves, rakes or tools. If you don't, we will provide them. If you're looking for a way to give back to your community and get some morning exercise, join us!
Maine Old Cemeteries Meeting
Saturday, May 16, 2015
8:30am to 2:30pm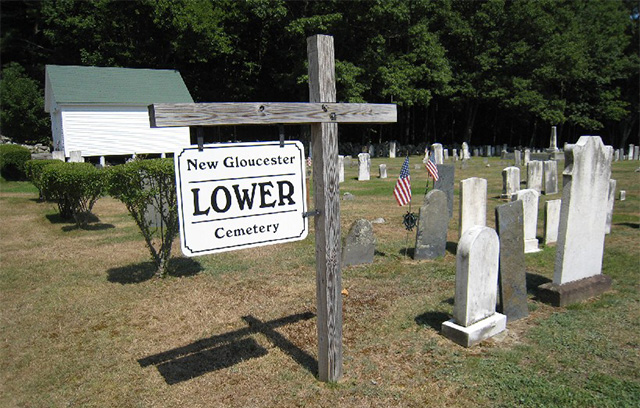 The Maine Old Cemetery Association is conducting its spring meeting in New Gloucester, Maine. They'd like you to RSVP on their website by May 7, and pay only $3 at the door. We're excited that Ron Romano is going present on the best of Bartlett Adams' stonecutting. There will also be exhibits, lunch, a presentation about New Gloucester cemeteries, and a guided walk through New Gloucester's Lower Cemetery. Never gone to a cemetery lovers gathering? Come on out, we're a lot of fun.
Hello, Death's Head
Spirits Alive has an updated logo
The earliest American gravestone carvings often included a human skull with hollow eyes and prominent teeth, known as the death's head. In Eastern Cemetery—established 1668—you'll find many examples from skulls with crossbones, wings and even skeletons. Diane Brakeley created the image to reflect this early symbolism using the headstone art of Stephen Larrabee who died in 1718.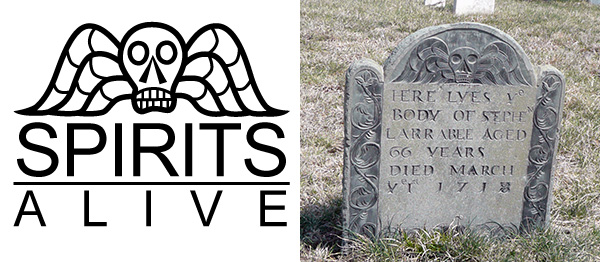 Stephen Larrabee's headstone is carved with the 2nd-oldest death date in the cemetery. It is a thick, dark slate and deeply rendered. The lightbulb-shaped skull and decorative panels on the left, bottom and right are attributed to James Foster, a Dorchester, Massachusetts carver who would not have known what a lightbulb was.
Subterranean Celebrity: The Hows
Deaths listed: 1819 to 1871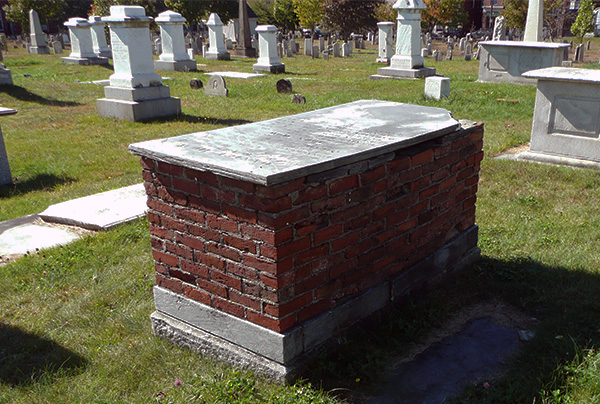 The Daniel How family purchased an underground tomb in Section A of the Eastern Cemetery. The mortal remains of 11 individuals have been placed in the room below this brick monument. It was originally made of stone, but rebuilt with brick, and it is likely the slate slab was also a replacement based on the fact that most old box tombs in this area are topped with worn marble.
Robert Hall has done much research on the family and has generously shared it within the pages for the How family on Find A Grave. Highlights include:
3 family members served in the War of 1812 (Captain, Sergeant and Private).
Built 3 brick houses on Danforth and on Pleasant Streets in Portland that are listed in the National Register of Historic Places.
His sons, Captain James Lunt and Captain Joseph, headed the barque Ellen Stevens that traveled to Cuba for sugar and molasses.
Joseph How set up a trust for "indigent seamen" which is still in operation today.
A big thanks to Robert for all of his work documenting and sharing the information he has researched on the How family and for suggesting them as our Subterranean Celebrity this month.
You also can suggest a subterranean celebrity! Just send an email—it doesn't take much to make a nice little story. An index of all of our Subterranean Celebrities is available.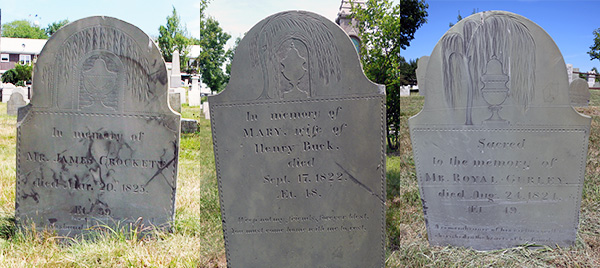 Ron Romano speaks about the life and times of Portland's first stonecutter and his incredible body of work in carved stone. Reference the Bartlett Adams tour schedule if you'd like to catch him.
Private Tours Available Until Regular Season Starts
Some just can't wait until summer to start traipsing around the cemetery and learning about the those who rest here, their stories, and the art of their markers. This year, we're conducting earlybird tours. If you Email us dates, times and how many are in your party, and we'll try to match you up with an available trained guide. Tours are 1 hour or less and meet at the Congress Street gates.
$10 adults, $5 students, $5 seniors over 65, and children under 12 free.
Please allow 48 hours notice.
Private tours are available now through the 4th of July.
Shop with Amazon and Spirits Alive Gets a Donation
If you're an Amazon shopper, here's an easy way to support your favorite historic Maine cemetery:
go to smile.amazon.com
enter Spirits Alive in the box
choose the non-profit in Portland, Maine from the list
Voila! A portion of all of your purchases through smile.amazon.com will go to our efforts to support, conserve and promote this historic outdoor museum. Thank you!
Support the Eastern Cemetery with your giving
For only $5, you can help Spirits Alive keep the Eastern Cemetery alive for generations to come and join as a Friend. Through your support, you can help us, an ALL-VOLUNTEER organization, to continue to:
Keep the gates open – encouraging the community to explore its open and safe green space
Offer education about the cemetery and its residents to the public – through tours, lectures, and events
Encourage and support the city in keeping the site clean and safe for visitors of all ages
Preserve this incredible outdoor museum and sacred historic landscape