Spirits Alive Happenings
The First Book Dedicated to the History of the Eastern Cemetery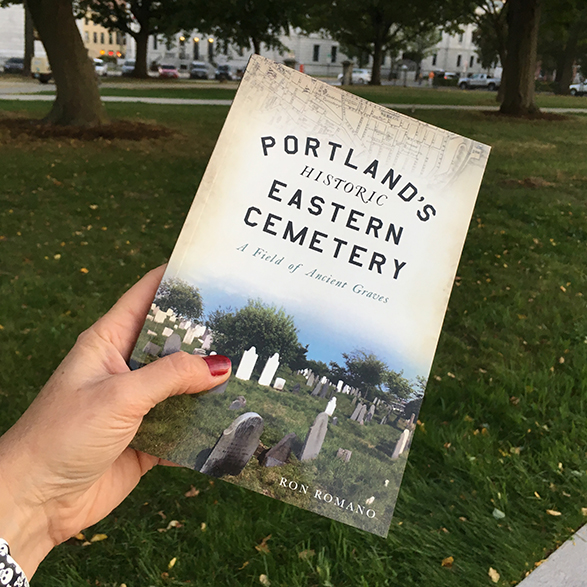 We are excited to celebrate the second book of our friend and faithful volunteer, Ron Romano: Portland's Historic Eastern Cemetery — A Field of Ancient Graves. Books are available for purchase! Check out the opportunities to hear Ron talk about the book and present about the cemetery.
posted November 1, 2017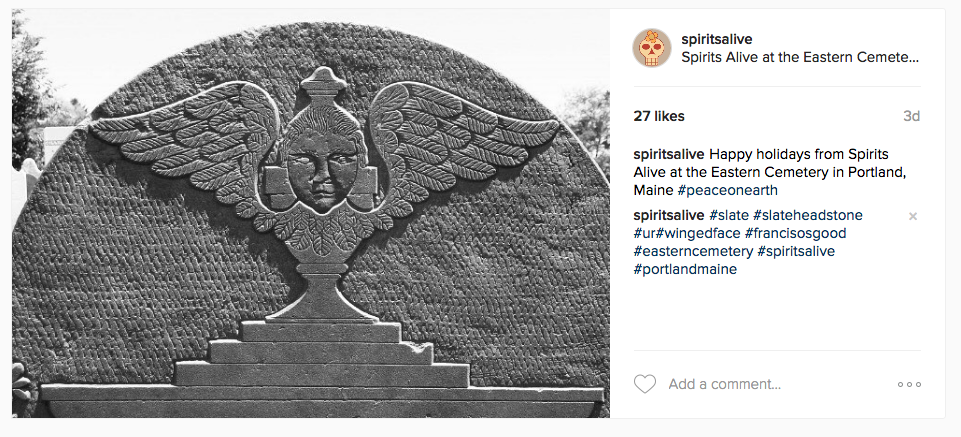 If you're on Instagram, please follow us! We post images from the Eastern Cemetery as well as from other cemeteries that we visit. We also repost images from our friends and others with beautiful perspectives of burial grounds and cemeteries.
posted December 28, 2016
An awesome book on the most prolific artist in the Eastern Cemetery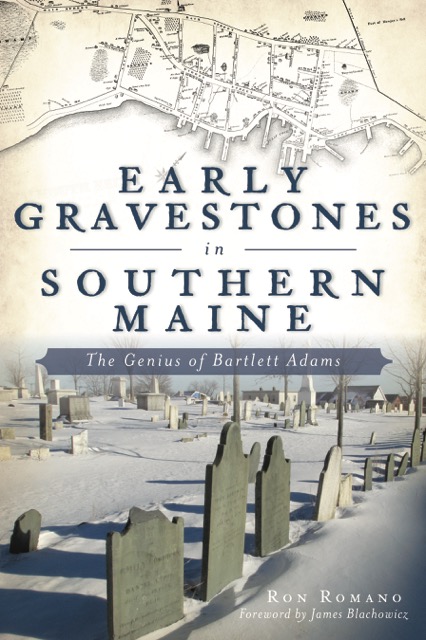 We are excited to celebrate the new book of our friend and faithful volunteer, Ron Romano: Early Gravestones in Southern Maine - The Genius of Bartlett Adams. Books are available for purchase!
posted August 23, 2016
Joseph Thompson vs. Mary Ann Floyd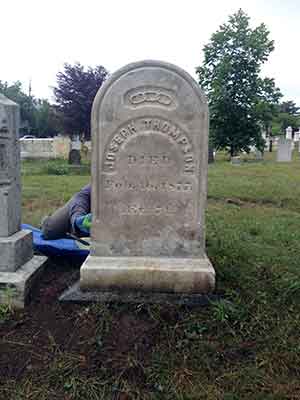 Stone conservation techniques and materials are ever-evolving with improvements in technology regarding materials used to make repairs and what we learn through experience in monitoring the old repairs of stones. Spirits Alive volunteers and hired Eastern Cemetery conservators make it a priority to keep abreast of the most up-to-date gravestone conservation materials and techniques.
A good example of the work of Spirits Alive does can be seen prominently on Funeral Lane. Joseph Thompson's marble headstone and base was uprighted, cleaned and mortared into place. The process and material has not altered the stone or damaged it and can be easily removed in the future should someone else need to re-do the repair.
Contrast this stone with that of Mary Ann Floyd right next door. Whoever worked on this stone had good intentions but may have created more problems by using improper materials and methods. In addition to being plain sloppy and ugly, the concrete will prove difficult to remove in order to improve the repair. For the best information on gravestone care and repairs, consult the Association for Gravestone Studies or the Maine Old Cemetery Association.
posted July 19, 2015