Saturday, September 29, 2012
9:00 AM - 12:00 PM
This year, Spirits Alive is proud to support National Public Lands Day when volunteers around the nation will visit their favorite parks, beaches, wildlife preserves, or forests and chip in to help improve these treasured places. We'll be taking part in the largest, single-day volunteer event for public lands in our country. Last year more than 170,000 Americans participated at more than 2,000 sites in all 50 states, Guam, Puerto Rico and Washington, DC.
Portland's Eastern Cemetery was added to the National Register of Historic Places in 1973. It was established as the first public cemetery in Portland in 1668. We would love to have you join us!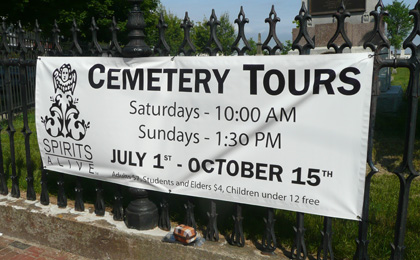 Saturdays: 10:00 AM - 11:00 AM
Sundays: 1:30 PM - 2:30 PM
$7 per person, seniors and students $4, children under 12 free
It's fall, and guided tours through the cemetery continue! Learn about the types of stones, some of the stories of those who are interred, and some fun facts about burial grounds and funerary customs. The terrain is uneven, the sun can be warm, and the wind can be cool, so wear layers and appropriate footwear. You can pre-register by emailing sa@spiritsalive.org but it's not required. Check the Twitter feed on our website for cancellations due to weather.
Interested in a special tour at a different date and time for your group? Please let us know. We're happy to accommodate.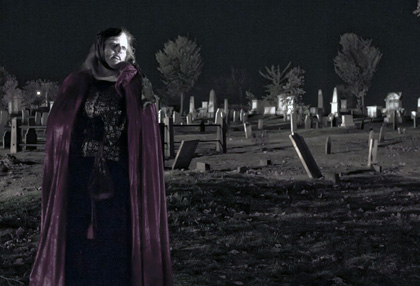 October 18-20 and 25-27, 2012
6:00 PM - 7:00 PM
Join us for a spooky Walk Among the Shadows through the grounds, and hear the stories of those who still occupy the 344-year-old boneyard. This is a fun annual happening for cemetery lovers, students of Portland history, and Halloween aficionados of all ages! Professional actors from the community portray our residents and animate their tales of lives past amidst the eerie background of historic gravestones. A not-to-be-missed October event, this year's ghosts are all-new to the walk and have ties to the War of 1812.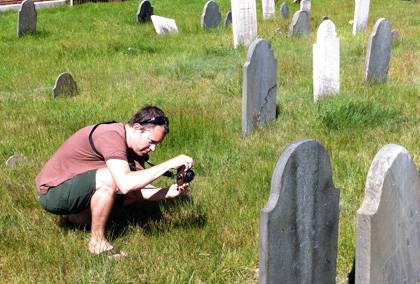 Our intrepid photographers have spent the summer gathering image of the 300+ stones in Section B. Eventually, the photos will be paired with the data gathered about the stones in a searchable online database. You can still participate in this fun project! Learn more about volunteering your time and camera work to the Eastern Cemetery Stone Photography Project by emailing Holly today.
Subterranean Celebrity: Cosmo De Sanchez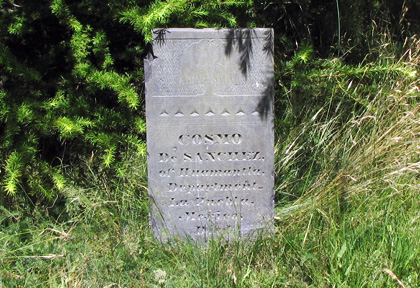 In 1847, the Mexican-American War was in full swing. Mexico City had fallen, and a month later, U.S. Major General Joseph Lane was sent to Puebla, a town under siege by the Mexican army. General Lane sent out a group of Texas Rangers who found Santa Anna's 2,000 Mexican lancers in Huamantla, a few miles away. A battle ensued, and General Lane's infantry sent them running for their lives. The army then plundered and burned what was left of Huamantla. Cosmo De Sanchez' headstone simply states that he was in the Huamantla Department, La Puebla, Mexico. Why was he in Portland? Did he escape? Was he taken prisoner? Who purchased such a fancy headstone for him? Why did he die only a year after the battle? All we may ever know about him is that he died in the USA on December 9, 1848 at the very young age of 24.
Help Spirits Alive keep the Eastern Cemetery alive for generations to come and join as a Friend. For only $5 you can help us:
Continue offering education to the public – through tours, lectures, and events
Encourage and support the city in keeping the site clean and safe for visitors of all ages
Repair and restore the Dead House (Victorian Tool Shed)
Keep the gates open – encouraging the community to use its open green space
Go to: www.spiritsalive.org/join to take advantage of this offer today!