Spirits Alive Happenings

We invite you to take a spooky walk through the Eastern Cemetery at dusk and learn about those who lived in Portland in 1807. Spirits are portrayed by professional actors of Acorn Productions and promise you and evening of history, laughs and maybe even a little surprise. Learn more about Walk Among the Shadows.
OCTOBER 23-25 & 29-31, 2014
6:30PM TO 7:30PM

SUNDAY, OCTOBER 26, 2014
5:30PM TO 6:30PM
posted October 9, 2014
Next tour: Saturday, October 25 at 11:00am

Bartlett Adams was Portland's first stonecutter, moving here in 1800 to set up shop. He was trained in Massachusetts and brought people in this area a faster, more cost-effective way to purchase a stone marker for a loved one. He was also highly skilled at his craft. Ron Romano will lead you on a tour of the cemetery while explaining a little about Adams' life, how he knows which stones are Bartlett Adams shop stones, and a bit about the lettering and iconography created by this incredible and prolific artist. Tours are scheduled, weather permitting.
posted June 26, 2014. updated September 28, 2014
posted May 26, 2014
Tour and Presentations
May 18, 2014
The morning includes a 10:30am tour of Eastern Cemetery and the afternoon presentations start at 1pm. The meeting is free and open to the public. Please RSVP to segaljl@aol.com.
posted March 23, 2014
Learn More of the Eastern Cemetery's Most Prolific Stonecutter
If you missed Ron Romano's talks on Bartlett Adams, do not despair! He is updating information about the stonecutter and his life constantly and has several talks planned in May and June.
posted March 23, 2014
Saturday, March 29, 2014
USM Wishcamper Building, Room 102
1:30pm–3:00pm
Our third and final presentation in this, our 2014 Winter Lecture Series is a roundtable. Representing cemeteries such as the Grand Trunk and those on Peaks Island are 5 individuals who will discuss Portland's historic small burial grounds and what is takes to restore them to our cultural landscape. Find out more about this roundtable.
posted March 9, 2014
Saturday, February 22, 2014
USM Wishcamper Building, Room 102
1:30pm–3:00pm
Could it be that most of the gravestones in the Eastern Cemetery came out of one stone cutter's shop in Portland, Maine? From his family crest, to fancy urns, floral embellishments, and sun faces, Bartlett Adams had a huge impact on the Eastern Cemetery's landscape. Hear Ron Romano talk about his life and times as well as his art in this second in our series of winter lectures. Find out more about our lecture series.
posted February 8, 2014
Saturday, January 25, 2014
USM Wishcamper Building, Room 211
1:30pm–3:00pm
Presented by the Gravestone Girls, this is the first offering in our 3-lecture series. Hope to see you there! Find out more about our lectures.
posted January 8, 2014
Saturdays: January 25, February 22, and March 29, 2014
In 2014, Spirits Alive will resume its annual lecture series spotlighting cemetery topics. Please put us on your calendar until we secure a location and times.
January 24
The Art, History, and Symbolism of Early New England Gravestones
Presented by The Gravestone Girls - Melissa Anderson, Maggie White, and Brenda Sullivan
February 22
Bartlett Adams, Stone Cutter of Portland, Maine and Surrounding Area.
Exploring the life, times, and works of the shop of Bartlett Adams, who maintained his shop in Portland, Maine from 1800 to 1828. Lecturer: Ron Romano, member of Spirits Alive Board and Summer Tour Docent
March 29
The Status and Future of Portland's Forgotten Cemeteries
A panel of cemetery representatives will discuss several historic small burial grounds in the area and what is takes to restore them to our cultural landscape.
posted December 7, 2013
October 24-26 & 30-31, 2013
6:30pm - 7:30pm

Sunday, October 27
5:00pm - 6:00pm
Yes, folks, it's back! Walk Among the Shadows allows the brave to travel Funeral Lane at night. Led by hooded specters, the strong of heart will hear ghosts of the past tell their eerie Civil War-time tales among the dimly lit ancient stones. Fun for the whole family! Tickets are $10 for adults, and $5 for children 12 and under. There are no presales, so arrive early to find a parking space and get a chance to enter the gates with a group.
posted September 20, 2013
Thursday, September 5, 2013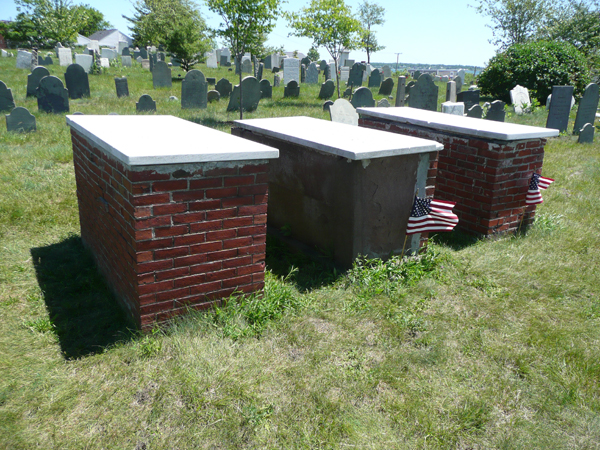 The Maine Historical Society and Maine Military Historical Society will host a graveside service with military honors at Portland's Eastern Cemetery. Scheduled to speak are: 
David Googins, Maine Historical Society Chairman
Colonel Andres Gibson, Maine Army National Guard Chaplain
David Hanna, Author
Ann LePage, First Lady of Maine
Susie Kitchens, British Consulate General, Boston
Brigadier General James Campbell, Maine National Guard
Michael Brennan, Mayor of Portland
Herb Adams, Historian

The Italian Heritage Center Concert Band and the Maine Army National Guard will perform, and descendants of the captains will lay wreaths on their tombs.
posted August 29, 2013
April 3, 1925 – August 7, 2013
Cissie Lindemann was a faithful Spirits Alive volunteer, wielding a shovel at workdays, donning a black robe to help out at Walk Among the Shadows, and opening the cemetery gates each morning for visitors in the summer — (just to name a few). In 2008, she was given our first and only Volunteer of the Year award to thank her for her selfless giving to this historic landscape. It is with sad hearts that we post her photo here for all to see as a memento to a live well-lived. We miss you, Cissie.
posted August 27, 2013
July 3 – October 13, 2013
Wednesdays 1:30 pm
Saturdays 10:30 am
Sundays 1:30 pm
Not only are our tours on Saturdays and Sundays this year, but they are also on Wednesdays! Come out and take a stroll through the cemetery grounds with one of our guides. You'll learn about the history of the cemetery, Portland history, types of stones, mortuary art, and the lives who are interred in these sacred grounds. Tickets are only $7 for adults, $4 students and seniors, and free for children 12 years and younger. Read more details about these tours.
posted June 25, 2013
On June 2, 1855, Mayor Neal Dow instructed his militia to fire on a mob that had formed in front of city hall and threatened to enter the doors by force. The group of men believed that Dow, responsible for passing the Maine Law of 1851 that banned the sale and manufacture of alcohol in the state, was keeping a stash for himself in the basement.
One man was killed during this melee. John Robbins of Deer Isle had come to Portland and visited with his fiance, Catherine Fuller earlier in the day. He was second mate of the barque (a 3-masted sailing vessel) Louisa Eaton. He was described as "eminently peaceful and good natured; he was a handsome man, finely shaped and about six feet tall."1
Don't expect to lay a wreath at Mr. Robinson's headstone on this, the 158th anniversary of the Portland Rum Riot. He was interred at the foot of John Noble's gravesite at the age of 22, but like so many buried in the Eastern Cemetery, he either had no stone carved for him, or it has vanished.
1 In 1855 Review of the Testimony Taken Before The Second Inquest On The Body of John Robbins, Who was shot in Portland, June 2d, 1855; together with Remarks on the Report of the "Investigating Committee," appointed by Mayor Dow and the Aldermen, June 9th, 1855 (n.d. [1855], n.p. [Portland, Me.], anon.)
posted June 2, 2013
May 18, 2013
10:00 am – 12:00 pm
Meet at the Congress Street gate
Join cemetery friends, gardeners, history buffs, and neighbors to spruce up the area for summer. There will be an opportunity to gather the refuse of winter as well as mulch around the happy trees dotting the landscape. No experience is required! Master gardeners will be on hand to instruct volunteers on the basics of working near historic gravestones, and provide a fun morning for all. Support this city green space and help us encourage respect by keeping it beautiful.
posted May 8, 2013